Looking to drive conversions higher? Consider incorporating a high-converting landing page with a branded video.
What is a Landing Page?
A common misconception is that a landing page should be used in place of your business website in order to save money on the extra design work. If you're looking to cut costs, we would recommend looking into our template-based web designs.
That will do much better for your business than a small, targeted landing page that only gives a brief summary of who you are and what you do. So to be clear, unless you haven't yet launched your business or product, you need a full website for your business, not just a landing page. It is therefore important to understand what a landing page is and how it differs from your website. While your business website should have multiple functions (e.g. a blog, galleries, contact forms, member log-in, etc) and caters to visitors from various traffic sources, a landing page is far more focused, driving traffic from a specific destination or place along the customer journey, with the purpose of triggering specific actions leading to a desired end goal.
A landing page with multiple actions in a daisy chain is called a funnel. The end goal is usually the sale of a specific product, but it could be an email subscription or a contact as well.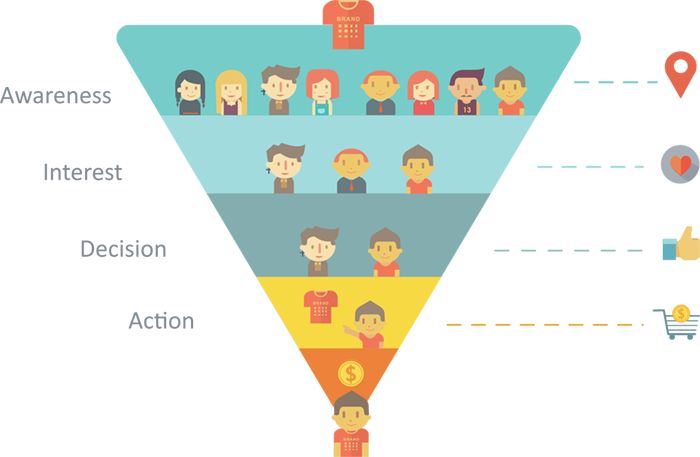 As the landing page represents the 4 levels on the infographic below "awareness" the most important function is to convert as many potential customers into real customers as you can, which is why using targeted messaging is paramount. The more targeted your messaging can be for the visitors of your page the higher your conversion rate will be. The landing page/sales funnel should not replace your business website. The latter is your information hub. The former is a conversion machine for a slice of your target audience.
The Impact of Video on Conversion Rates
If you have a business model or product that requires in-depth explanation, consider incorporating a video to convey the necessary information in an easy-to-digest format. This can help your customers understand the core value of your product or business, which will lead them down the funnel to take the desired action. Including a video on a landing page can increase conversion rates by up to 80% (source: Unbounce).
A well-crafted video, integrated with your landing page branding is an optimal way to connect with your visitors, engaging them visually and aurally while providing needed information that will drive the sale. It's also a great way to provide consistent branding across various forms of media. In addition to the increased conversion, pages with video are 53% more likely to show up on page 1 in SERPs (source: Mist Media). So not only will video help you convert higher, it also has the added effect of pulling additional traffic from the search engines.
That said, most landing pages are backed by advertising, so our main goal is to maximize your advertising dollar by driving up your conversion rate as high as possible.
Key Benefits
Here are some additional key benefits of using video on your landing pages:
41% more web traffic (source: SmallBizTrends)
64% greater chance to convert a sale (source: Hubspot)
95% greater information retention (source: Forbes)
Remaining competitive in an increasingly video-driven marketing landscape
Video Services
We now partner with Pencil Animation Studios to provide studio production video for our websites at affordable prices. Our alliance allows us to turn any
landing page into an engagement engine.
Testimonials
Our lowest barrier to entry video offering, get a testimonial video for an immediate boost to your page engagement metrics. Testimonials are a great way to inspire trust in your audience while informing them of some of your value-added services.
Studio and On Location Shoots
For new product launches, a promotional video featuring your products, services or company is the way to go to provide information while building trust and brand awareness.
Animated Video
An animated video with infographics simplifies information for the layperson, which is extremely important for complex industries such as insurance.
Composite Video
A blend of production video and graphical overlays, composite video brings animated graphics into seamless interaction with real-world elements, illustrating the ways your product can impact the world and leaving a lasting impression. Whether you are looking to promote a new product or launch an ad campaign, designing the right landing page and funnel for your target audience can make a huge difference.