For businesses, entrepreneurs and organizations looking for a customized approach.
Our hallmark service, a custom site is branded for a more specialized audience, and gives you the features needed to keep your content fresh and interesting. Custom-built sites allow for more flexibility on the part of our designers, giving us the ability to integrate plug-ins that engage the audience in unique ways. This tier is perfect for businesses that want to engage online visitors or need to constantly update information.
If you need:
Membership applications
Galleries
Events Calendars and Upcoming Events
Online Booking
Other Database Integrations
Then a custom site is what you need. As with all of our products, you get a fast-loading, mobile-friendly website that engages and converts traffic into what you need most: new sales leads, paying clients and customers, all with no long-term commitment. We build your website, it is yours forever.
We have a lot of exciting things to discuss, but first, let me introduce you to our friend, the page speed road runner.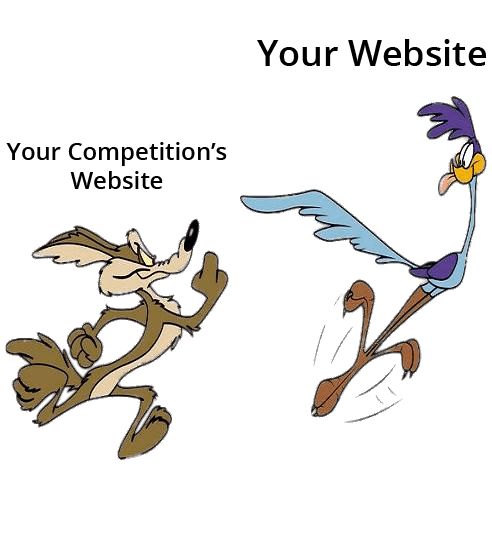 …And now back to our regularly scheduled programming!
Page Speed and User Behavior
Seconds count when trying to retain users, and having a page that takes 2 seconds to load instead of 7 on average results in 23% less traffic remaining on your site beyond the initial page load (source: section.io). Conversely, users visit an average of 5.2 pages more pages load time is 2 seconds compared to 7 seconds. More pages means more engagement. That's the name of the game!
We build pages light and compact, to adhere to Google page speed metrics. Meaning we don't bog down your pages with Javascript and inline styles and we adhere to best practices that will keep your websites running quickly and easily, even on low bandwidth connections.
Mobile Usability
On the topic of user behavior, it would be remiss if we didn't bring up mobile, which has risen from 35% to 52% since 2015 (source: Statista). With the rise of the mobile web browser, it's more important than ever that your website can cater to mobile users, especially when it comes to showing up in search engine results, which is equally tipped towards mobile. This not only places the onus on web developers to build responsively designed websites, but also sites which are built with mobile usability in mind.
Mobile usability is also a measure that Google uses to determine which pages to rank higher for mobile searches. One of our best-performing websites to date gets nearly 80% of its traffic through mobile and has traffic which has grown 30% every month since launch.
If you are committed to providing fresh content, we also provide SEO services.